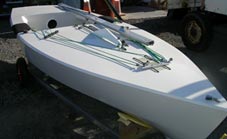 Welcome to Icebreaker Boats.
Icebreaker Boats (Est 2007) are using the very successful "Icebreaker" mould to produce the latest generation of OK Dinghies in New Zealand. The shape was first used in the early seventies after a mould was taken from an Alf Lock designed boat. The shape has proved very successful, winning ten World Championships to date, including 2002, 2005, 2006 and 2007.
The hulls are made by Chris Brown of Performance Composites, a very experienced composites laminator, while the fit out and finishing is carried out by Alistair Deaves, who has been involved with the class for around 25 years.
Boats are available for sale in New Zealand and overseas, completed to any requested level.