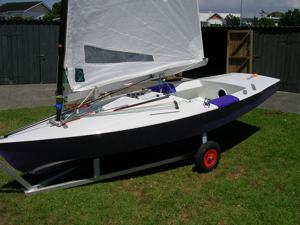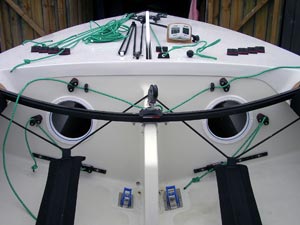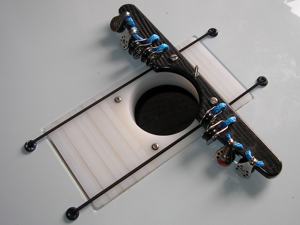 Icebreaker Boats: Prices
Price-list (Exclusive of NZ GST) - Current May 2011 - NZ Dollars
Hull only with bulkheads and case
$7000
Plywood tapered case and bulkheads.
Flotation fitted.
Basic boat
$10250
Hull and decks.
Comes with unpainted cockpit and bulkheads and no fittings.
Includes flotation inside front tank.
Boat with painted cockpit
$11000
As above with a painted cockpit.
Choice of non skid 3mm EVA foam or non skid paint.
Boat with traveller, hatches, bailers and pintles.
$13000
Riley bailers as standard.
Sea-sure pintles.
Fully fitted hull
$15500
All fittings - carbon organizer wing, blocks, cleats.
Toe-straps, pussypads, all lines.
Harken fittings used wherever possible.
Fully fitted hull with foils
$17400
Ron Bull foam foils as standard.
Possible cedar option if requested.
Carbon tiller with Ronstan extension.
Measured hull with foils
$18000
Sail number engraved.
Correctors fitted and boat up to weight.
Ready to race hull with extras
$18750
Carbon compass bracket (no compass)
Drink bottle holders fitted
Top cover (Bush Sails) and rudder bag
Ready to sail boat
$20750
Fitted boom
Mast fitted out and fitted to boat
Completely tested
(excludes cost of mast and sail)
Complete ready to sail package
$27000
Includes mast and sail, compass, trolley.
Just jump in and go sailing.
Accessories
Trolley
Quality made lightweight alloy trolley.
(Compulsory with overseas boat orders unless pre-arranged.)
$ 675
NZ Booms (coming soon)
Foils
Cedar rudder
$500
Cedar centerboard
$750
Carbon tiller
$150
Alloy tiller
$60
Miscellaneous
Compass (tactic)
$575
Anodised kicker lever
$100
Hollow boom bolt
$40
Boom bolt spanners
$45
For overseas orders please contact us for shipping costs and delivery times.
Australia:
Most accessories can be obtained in Australia from
Peter Robinson
Peter.Robinson@IcebreakerBoats.com.au
04 1919 0000
Germany/Europe
Greg Wilcox
gwilcox@quantumsails.com
(Prices not guaranteed. Please enquire for current pricing)